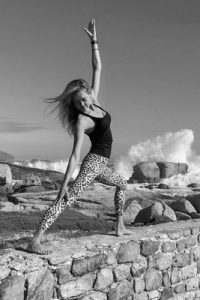 Kirsten is a Cape Town based Holistic Health Coach and Certified Yoga and Meditation Instructor with a passion for all things wellness.
She underwent extensive yoga and meditation training with some of the best teachers and institutions from around the world and is also is a qualified Holistic Health Coach through the renowned CHEK Institute. She has dedicated the last decade of her life to learning, growing and exploring yoga, meditation and holistic wellness. Using all her years of knowledge and experience she now helps others on their physical and mental wellness journey.
Kirsten delivers one on one and small group yoga and meditation sessions in homes, at events, online and also to corporate teams in their workplaces or virtually. Kirsten has a passion for educating people on the benefits of good health and mindfulness through workshops and public speaking. When she isn't improving the lives of her clients you'll find her on her yoga mat, swimming down at Bree beach, or sipping on green smoothies and laughing way too hard at her own jokes.
Kirsten has formed a Joint Venture with Scott-Safe to promote employee wellness in the workplace.