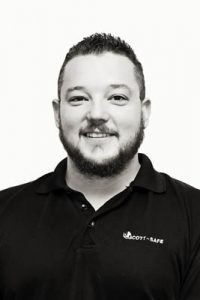 Desmond Murley
Desmond has been with Scott Safe since 2017.
For the past 10 years he has been a facilitator for tactical awareness, tac med, commercial First aid and is an American Heart Association facilitator, assessor and moderator for basic life support for Health Care Providers. He is a registered and acting paramedic for various institutions.
Has worked with governments, large and small institutions, maritime security and numerous security firms and hospitals ranging from buddy first aid to basic life support.
Prior to his solo career, he worked as a Private military contractor. He served in the Armed Forces as a member of a special task force in North Africa as a support team for engineers removing land mines.
Has studied widely and multiskilled himself and has formal qualification in Advanced Project Management, Basic Life Support and is Basic Ambulance Assistant.