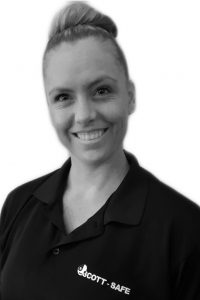 Firstly, Comply online is our compliance program we offer to companies with multiple branches and companies who need a more affordable solution to their occupational health and safety needs. Bringing our services online has been a huge step for Scott-Safe and Ashleigh has lead this to expand our reach of expertise.
Ashleigh Scott-Roux heads up our Digital Products Division, bringing Comply Online to life.
Having over 10 years experience in the Marketing industry it was a natural progression into the digital space, offering clients a full turn key marketing management solution.
With this knowledge she was brought on to optimise, improve and scale the Comply Online Program, making this effective and essential tool accessible and known by all multi-branch companies.
She also runs Lion Child which conducts playground inspections according to the SANS standard. Currently this is the only company in South Africa that offers this benchmark inspection checklist and with our joint knowledge we are aiming for all schools to use our services to get playgrounds safe and compliant.